EGF products
EGF Turkey File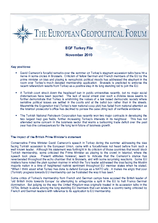 EGF Turkey File, November 2010
Insights into Turkish Domestic and International Politics
November 2010
Key Points:
• David Cameron's forceful remarks over the summer on Turkey's stagnant accession talks have hit a nerve in some circles in Brussels. Criticism of fellow German and French members of the EU by the prime minister on bias and playing to xenophobic political moods has addressed the elephant in the room over Turkey's much debated membership application. Brussels is predicted to endorse the recent referendum results from Turkey as a positive step in its long standing bid to join the EU.

• A Turkish court struck down the headscarf ban in public universities recently, but no major social disturbances have been reported. The lack of social unrest over such a divisive issue seems to further demonstrate that Turkey is enshrining the values of a law based democratic society where sensitive political issues are settled in the courts and at the ballot box rather than in the streets. Meanwhile the Ergenekon trial (Turkey's new national coup plot) has faded from national attention as the Istanbul prosecutors office has declined to pursue the case citing lack of verifiable evidence.

• The Turkish National Petroleum Corporation has recently won two major contracts in developing the two largest Iraqi gas fields, further increasing Turkey's interests in its neighbour. This has not alleviated some concern in the business sector that warns a ballooning trade deficit over the past year has dire consequences for the long-term future of business growth.
Previous issues
2019
2018
2017
2016
2015
2014
2013
2012
2011
2010