EGF products
EGF Turkey File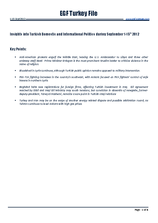 EGF Turkey File, 1 September — 15 September 2012
Insights into Turkish Domestic and International Politics
1 September — 15 September 2012
Key Points:
Anti-American protests engulf the Middle East, leaving the U.S. Ambassador to Libya and three other embassy staff dead. Prime Minister Erdogan is the most prominent Muslim leader to criticize violence in the name of religion.
Bloodshed in Syria continues, although Turkish public opinion remains opposed to military intervention.
PKK-TSK fighting increases in the country's southeast, with Ankara focused on PKK fighters' control of safe havens in northern Syria.
Baghdad halts new registrations for foreign firms, affecting Turkish investment in Iraq. Oil agreement reached by Erbil and Iraqi Oil Ministry may sooth tensions, but conviction in absentia of renegade, formerdeputy- president, Tareq al-Hashemi, remains a sore point in Turkish-Iraqi relations.
Turkey and Iran may be on the verge of another energy related dispute and possible arbitration round, as Tehran continues to level Ankara with high gas prices.
Previous issues
2019
2018
2017
2016
2015
2014
2013
2012
2011
2010