EGF products
EGF Turkey File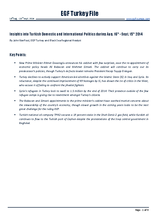 EGF Turkey File, 16 August — 15 September 2014
Insights into Turkish Domestic and International Politics
16 August — 15 September 2014
By John VanPool, EGF Turkey and Black Sea Regional Analyst
Key Points:
New Prime Minister Ahmet Davutoglu announces his cabinet with few surprises, save the re-appointment of economic policy heads Ali Babacan and Mehmet Simsek. The cabinet will continue to carry out its predecessor"s policies, though Turkey"s de facto leader remains President Recep Tayyip Erdogan

Turkey declines to actively support American-led airstrikes against the Islamic State (IS) in Iraq and Syria. Its reluctance, despite the continued imprisonment of 49 hostages by IS, has drawn the ire of critics in the West, who accuse it of failing to confront the jihadist fighters. 

Syria"s refugees in Turkey look to swell to 1.5 million by the end of 2014. Their presence outside of the few refugee camps is giving rise to resentment amongst Turkey"s citizens. 

The Babacan and Simsek appointments to the prime minister"s cabinet have soothed market concerns about the stewardship of the country"s economy, though slower growth in the coming years looks to be the next great challenge for the ruling AKP. 

Turkish national oil company TPAO secures a 19 percent stake in the Shah Deniz-2 gas field, while Kurdish oil continues to flow to the Turkish port of Ceyhan despite the protestations of the Iraqi central government in Baghdad.
Previous issues
2019
2018
2017
2016
2015
2014
2013
2012
2011
2010