EGF products
EGF Turkey File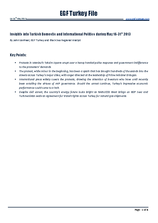 EGF Turkey File, 16 May — 31 May 2013
Insights into Turkish Domestic and International Politics
16 May — 31 May 2013
By John VanPool, EGF Turkey and Black Sea Regional Analyst
Key Points:
Protests in Istanbul"s Taksim Square erupt over a heavy handed police response and government indifference to the protesters" demands.
The protest, while minor in the beginning, has been a spark that has brought hundreds of thousands into the streets across Turkey"s major cities, with anger directed at the leadership of Prime Minister Erdogan.
International press widely covers the protests, drawing the attention of investors who have until recently been extolling the virtues of AKP governance. Should the unrest continue, Turkey"s impressive economic performance could come to a halt.
Despite civil unrest, the country"s energy future looks bright as NABUCCO West brings on GDF Suez and Turkmenistan seals an agreement for transit rights across Turkey for natural gas shipments.
Previous issues
2019
2018
2017
2016
2015
2014
2013
2012
2011
2010