EGF products
EGF Turkey File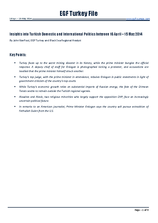 EGF Turkey File, Mid April — Mid May 2014
Insights into Turkish Domestic and International Politics between 16 April — 15 May 2014
By John VanPool, EGF Turkey and Black Sea Regional Analyst

Key Points:
Turkey faces up to the worst mining disaster in its history, while the prime minister bungles the official response. A deputy chief of staff for Erdogan is photographed kicking a protester, and accusations are levelled that the prime minister himself struck another.
Turkey"s top judge, with the prime minister in attendance, rebukes Erdogan in public statements in light of government criticism of the country"s top courts.
While Turkey"s economic growth relies on substantial imports of Russian energy, the fate of the Crimean Tatars seems to remain outside the Turkish regional agenda.
Alawites and Alevis, two religious minorities who largely support the opposition CHP, face an increasingly uncertain political future.
In remarks to an American journalist, Prime Minister Erdogan says the country will pursue extradition of Fethullah Gulen from the U.S.
Previous issues
2019
2018
2017
2016
2015
2014
2013
2012
2011
2010