EGF products
EGF Turkey File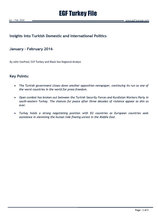 EGF Turkey File, January — February 2016
Insights into Turkish Domestic and International Politics
January — February 2016
By John VanPool, EGF Turkey and Black Sea Guest Analyst
Key Points:
The Turkish government closes down another opposition newspaper, continuing its run as one of the worst countries in the world for press freedom.

Open combat has broken out between the Turkish Security Forces and Kurdistan Workers Party in south-eastern Turkey. The chances for peace after three decades of violence appear as dim as ever.

Turkey holds a strong negotiating position with EU countries as European countries seek assistance in stemming the human tide fleeing unrest in the Middle East.
Previous issues
2019
2018
2017
2016
2015
2014
2013
2012
2011
2010