EGF products
EGF Turkey File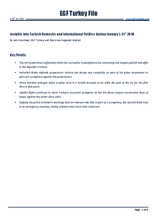 EGF Turkey File, January 2014
Insights into Turkish Domestic and International Politics
January 2014

By John VanPool, EGF Turkey and Black Sea Regional Analyst

Key Points:
The AKP government effectively halts the corruption investigations by conducting the largest judicial reshuffle in the Republic"s history.
Fethullah Gulen defends prosecutors" actions but denies any complicity on part of his Gulen Movement as part of a conspiracy against the government.
Prime Minister Erdogan takes a softer tone in a hostile Brussels as he visits the seat of the EU for the first time in five years.
Capital flight continues to harm Turkey"s economic prospects as the lira faces longest consecutive days of losses against the dollar since 2001.
Defying the prime minister"s warnings that an interest rate hike is part of a conspiracy, the Central Bank acts in an emergency meeting, raising interest rates more than 4 percent.
Previous issues
2019
2018
2017
2016
2015
2014
2013
2012
2011
2010