EGF products
EGF Turkey File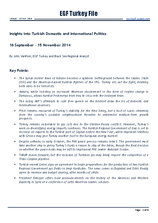 EGF Turkey File, 16 September — 15 November 2014
Insights into Turkish Domestic and International Politics

16 September — 15 November 2014

By John VanPool, EGF Turkey and Black Sea Regional Analyst

Key Points:
The Syrian border town of Kobane becomes a symbolic battleground between the Islamic State (ISIS) and the American-backed Kurdish fighters of the YPG. Turkey sits out the fight, deeming both sides to be terrorists.
Ankara, while insisting on increased American involvement in the form of regime change in Damascus, allows Kurdish Peshmerga from Iraq to cross into the besieged town.
The ruling AKP"s attempts to curb free speech on the Internet draw the ire of domestic and international observers.
Fitch remains reassured of Turkey"s stability for the time being, but a host of issues stemming from the country"s unstable neighbourhood threaten to undermine medium-term growth prospects.
Turkey remains vulnerable to gas cuts due to the Ukraine-Russia conflict. However, Turkey"s work on diversifying energy imports continues. The Kurdish Regional Government of Iraq is set to increase oil exports to the Turkish port of Ceyhan before the New Year, while improved relations with Greece may give Turkey another foot in the European energy market.
Despite setbacks in early October, the PKK peace process remains intact. The government must take another step in giving Turkey"s Kurds a reason to stay at the table, though the final decision on whether the peace holds may be left to imprisoned PKK leader Abdullah Ocalan.
TANAP moves forward, but the inclusion of Turkmen gas may likely require the completion of a Trans-Caspian pipeline.
Turkish-owned Genel signs an agreement to begin preparations for the production of two Kurdish Regional Government gas fields in Iraqi Kurdistan. The news comes as Baghdad and Erbil finally agree to revenue and budget sharing, after months of strife.
President Erdogan offers bold pronouncements on the history of the Americas and Western duplicity in Syria at a conference of Latin American Islamic scholars.
Previous issues
2019
2018
2017
2016
2015
2014
2013
2012
2011
2010