EGF products
EGF Turkey File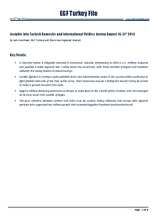 EGF Turkey File, 16 August — 31 August 2013
Insights into Turkish Domestic and International Politics
16 August — 31 August 2013
By John VanPool, EGF Turkey and Black Sea Regional Analyst
Key Points:
A chemical attack is allegedly launched in Damascus' suburbs, threatening to elicit a U.S. military response and possibly a wider regional war. Turkey backs the Americans, with Prime Minister Erdogan and President Abdullah Gul saying Bashar al-Assad must go.
Kurdish fighters in northern Syria establish their own administrative areas in the country while continuing to fight jihadist elements of the Free Syrian Army. Their autonomy may be a flashpoint should Turkey be forced to make a ground incursion into Syria.
Egypt's military-backed government continues to snipe back at the Turkish prime minister, who has emerged as its most vocal critic outside of Egypt.
The poor relations between Ankara and Cairo may be costing Turkey influence and money with regional partners who supported the military putsch that unseated Egyptian President Mohammed Morsi.
Previous issues
2019
2018
2017
2016
2015
2014
2013
2012
2011
2010