EGF products
EGF Turkey File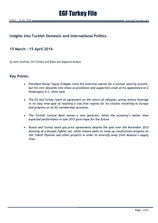 EGF Turkey File, March — April 2016
Insights into Turkish Domestic and International Politics
March — April 2016
By John VanPool, EGF Turkey and Black Sea Guest Analyst
Key Points:
President Recep Tayyip Erdogan visits the American capital for a nuclear security summit, but his visit descends into chaos as protestors and supporters clash at his appearance at a Washington D.C. think tank.

The EU and Turkey reach an agreement on the return of refugees, giving Ankara leverage in its long time goal of reaching a visa free regime for its citizens travelling to Europe and progress on its EU membership accession.

The Turkish Central Bank names a new governor, while the economy"s better than expected performance in late 2015 gives hope for the future.

Russia and Turkey reach gas price agreements despite the spat over the November 2015 downing of a Russian fighter jet, while Ankara seeks to ramp up construction progress on the TANAP Pipeline and other projects in order to diversify away from Moscow"s supply lines.
Previous issues
2019
2018
2017
2016
2015
2014
2013
2012
2011
2010