EGF products
EGF Turkey File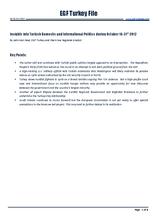 EGF Turkey File, 16 October — 31 October 2012
Insights into Turkish Domestic and International Politics
16 October — 31 October 2012
By John VanPool, EGF Turkey and Black Sea Regional Analyst

Key Points:
The Syrian civil war continues with Turkish public opinion largely opposed to an intervention. The Republican People's Party (CHP) has seized on the mood in an attempt to win back political ground from the AKP.
A high-ranking U.S. military official tells Turkish academics that Washington will likely maintain its passive stance on Syria unless authorized by the UN Security Council or NATO.
Turkey views Kurdish fighters in Syria as a threat amidst ongoing PKK-TSK violence. But a high-profile court case and international focus on Kurdish hunger strikers may provide an opportunity for new discourse between the government and the country's largest minority.
Another oil export dispute between the Kurdish Regional Government and Baghdad threatens to further undermine the Turkey-Iraq relationship.
South Stream continues to motor forward but the European Commission is not yet ready to offer special exemptions to the Moscow-led project. This may lead to further delays in its realization.
Previous issues
2019
2018
2017
2016
2015
2014
2013
2012
2011
2010