EGF products
EGF Turkey File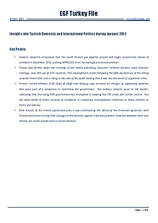 EGF Turkey File, January 2012
Insights into Turkish Domestic and International Politics
January 2012

Key Points:


Russia"s Gazprom announces that the South Stream gas pipeline project will begin construction ahead of schedule in December 2012, putting NABUCCO in an increasingly precarious position.
Turkey slips further down the rankings of the media watchdog, Reporters Without Borders, press freedom rankings, now 148 out of 178 countries. This development comes following the fifth anniversary of the killing of writer Hrant Dink and a ruling in the case of his death stating that it was not the result of organized crime.
Former Turkish Military (TSK) Chief of Staff, Ilker Basbug, was arrested on charges of supporting websites that were part of a conspiracy to overthrow the government. The military remains quiet on the matter, indicating that the ruling AKP government has triumphed in keeping the TSK under full civilian control. But the wide swath of those accused of complicity in conspiracy investigations continues to draw criticism at home and abroad.
Both houses of the French parliament pass a law criminalizing the denial of the Armenian genocide, with Turkish politicians voicing their outrage at the decision against a backdrop where relations between Paris and Ankara are at the lowest level in recent memory.
Previous issues
2019
2018
2017
2016
2015
2014
2013
2012
2011
2010