EGF products
EGF Turkey File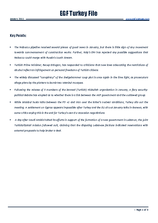 EGF Turkey File, January 2011
Insights into Turkish Domestic and International Politics
January 2011
Key Points:
• The Nabucco pipeline received several pieces of good news in January, but there is little sign of any movement towards commencement of construction works. Further, Italy's ENI has rejected any possible suggestions that Nabucco could merge with Russia's South Stream.

• Turkish Prime Minister, Recep Erdogan, has responded to criticisms that new laws advocating the restrictions of alcohol reflect an infringement on personal freedoms of Turkish citizens.

• The widely discussed "conspiracy" of the Sledgehammer coup plot is once again in the lime light, as prosecutors allege plans by the plotters to bomb two Istanbul mosques.

• Following the release of 5 members of the banned (Turkish) Hizbullah organisation in January, a fiery securitypolitical debate has erupted as to whether there is a link between the AKP government and the outlawed group.

• While Istanbul hosts talks between the P5 +1 and Iran over the latter's nuclear ambitions, Turkey sits out the meeting. A settlement on Cyprus appears impossible after Turkey and the EU sit out January talks in Geneva, with some critics saying this is the end for Turkey's own EU accession negotiations.

• A day after Saudi Arabia halted its efforts in support of the formation of a new government in Lebanon, the joint Turkish/Qatari mission followed suit, claiming that the disputing Lebanese factions indicated reservations with external proposals to help broker a deal.
Previous issues
2019
2018
2017
2016
2015
2014
2013
2012
2011
2010