EGF products
EGF Turkey File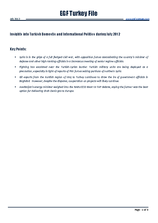 EGF Turkey File, July 2012
Insights into Turkish Domestic and International Politics during July 2012
Key Points:


Syria is in the grips of a full fledged civil war, with opposition forces assassinating the country"s minister of defense and other high ranking officials in a Damascus meeting of senior regime officials.
Fighting has escalated near the Turkish-Syrian border. Turkish military units are being deployed as a precaution, especially in light of reports of PKK forces seizing portions of northern Syria.
Oil exports from the Kurdish region of Iraq to Turkey continues to draw the ire of government officials in Baghdad. However, despite the disputes, cooperation on projects will likely continue.
Azerbaijan"s energy minister weighed into the NABUCCO West Vs TAP debate, saying the former was the best option for delivering Shah Deniz gas to Europe.
Previous issues
2019
2018
2017
2016
2015
2014
2013
2012
2011
2010