EGF products
EGF Turkey File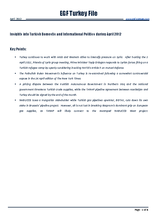 EGF Turkey File, April 2012
Insights into Turkish Domestic and International Politics during April 2012

Key Points:
Turkey continues to work with Arab and Western allies to intensify pressure on Syria. After hosting the 1 April 2012, Friends of Syria group meeting, Prime Minister Tayip Erdogan responds to Syrian forces firing on a Turkish refugee camp by openly considering invoking NATO"s Article 5 on mutual defence.
The Fethullah Gulen Movement"s influence on Turkey is re-examined following a somewhat controversial expose in the 24 April edition of The New York Times.
A pricing dispute between the Kurdish Autonomous Government in Northern Iraq and the national government threatens Turkish crude supplies, while the TANAP pipeline agreement between Azerbaijan and Turkey should be signed by the end of the month.
NABUCCO loses a Hungarian stakeholder while Turkish gas pipelines operator, BOTAS, cuts down its own stake in Brussels" pipeline project. However, all is not lost in breaking Gazprom"s dominant grip on European gas supplies, as TANAP will likely connect to the revamped NABUCCO West project.
Previous issues
2019
2018
2017
2016
2015
2014
2013
2012
2011
2010