EGF products
EGF Turkey File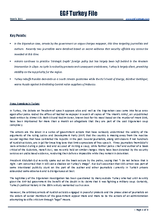 EGF Turkey File, March 2011
Insights into Turkish Domestic and International Politics
March 2011

Key points:
In the Ergenekon case, arrests by the government on vague charges reappear, this time targeting journalists and authors. Recently two journalists were detained based on secret evidence that security officials say cannot be revealed at this time.
Ankara continues to practice "Strategic Depth" foreign policy but has largely been left behind in the Western intervention in Libya. As Syria is rocked by protests and consequent crackdowns, Turkey is largely silent, preaching stability as the top priority for the region.
Turkey rebuffs Russian demands on a South Stream guarantee while the EU's head of Energy, Günther Oettinger, warns Russia against intimidating Central Asian suppliers of Nabucco.
Previous issues
2019
2018
2017
2016
2015
2014
2013
2012
2011
2010