EGF products
EGF Turkey File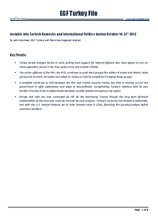 EGF Turkey File, 16 October — 31 October 2013
Insights into Turkish Domestic and International Politics
16 October — 31 October 2013
By John VanPool, EGF Turkey and Black Sea Regional Analyst
Key Points:
Turkey slowly changes tactics in Syria, pulling back support for Islamist fighters who have begun to turn on other opposition forces in the Free Syrian Army and Kurdish militias.
The Syrian offshoot of the PKK, the PYD, continues to push back groups like Jabhat al Nusra and Islamic State of Iraq and Al Sham. Its leader has called on Turkey to halt its complicity in helping these groups.
A ceasefire continues to hold between the PKK and Turkish Security Forces, but time is running out for the government to offer substantive next steps at reconciliation. Complicating Turkey's relations with its own Kurdish minority is the multiple breaks between Kurdish leaders throughout the region.
Europe and Asia are now connected by rail via the Marmaray Tunnel, though the long term financial sustainability of the economy could be harmed by such projects. Turkey's economy has slowed considerably, and with the U.S. Federal Reserve set to raise interest rates in 2014, financing the growing budget deficit could be a problem.
Previous issues
2019
2018
2017
2016
2015
2014
2013
2012
2011
2010