EGF products
EGF Turkey File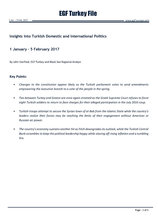 EGF Turkey File, 1 January — 5 February, 2017
Insights into Turkish Domestic and International Politics
1 January — 5 February 2017
By John VanPool, EGF Turkey and Black Sea Regional Analyst
Key Points:
Changes to the constitution appear likely as the Turkish parliament votes to send amendments empowering the executive branch to a vote of the people in the spring.
Ties between Turkey and Greece are once again strained as the Greek Supreme Court refuses to force eight Turkish soldiers to return to face charges for their alleged participation in the July 2016 coup.
Turkish troops attempt to secure the Syrian town of al-Bab from the Islamic State while the country"s leaders realize their forces may be reaching the limits of their engagement without American or Russian air power.
The country"s economy sustains another hit as Fitch downgrades its outlook, while the Turkish Central Bank scrambles to keep the political leadership happy while staving off rising inflation and a tumbling lira.
Previous issues
2019
2018
2017
2016
2015
2014
2013
2012
2011
2010