EGF products
EGF Turkey File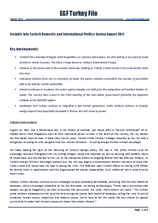 EGF Turkey File, August 2011
Insights into Turkish Domestic and International Politics
August 2011

Key Points:
Turkish Prime Minister Erdogan visits Mogadishu on a famine aid mission, the first visit by a non-African head of state in nearly 20 years. The trip is a huge boost to Turkey's international image.
Violence in the south-east of the country continues, leading to Turkish Armed Forces (TSK) cross-border raids into Iraq.
Following criticism from the US Secretary of State, the justice ministry contradicts the number of journalists said to be held by Turkish authorities.
Ankara continues to condemn the Syrian regime despite not calling for the resignation of President Bashar al- Assad. The country wins a seat at the Paris meeting of the new Libyan government following the apparent collapse of the Gaddafi regime.
Azerbaijan and Turkey continue to negotiate a gas transit agreement, while Turkey's reliance on foreign energy imports has reportedly increased 5 % since the AKP came to power.
Previous issues
2019
2018
2017
2016
2015
2014
2013
2012
2011
2010