EGF products
EGF Turkey File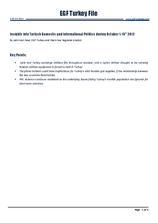 EGF Turkey File, 1 October — 15 October 2012
Insights into Turkish Domestic and International Politics
1 October — 15 October 2012
By John VanPool, EGF Turkey and Black Sea Regional Analyst

Key Points:
Syria and Turkey exchange artillery fire throughout October, and a Syrian airliner thought to be carrying Russian military equipment is forced to land in Turkey.
The plane incident could have implications for Turkey's vital Russian gas supplies, if the relationship between the two countries deteriorates.
PKK violence continues unabated as the underlying issues facing Turkey's Kurdish population are ignored for short-term solutions.
Previous issues
2019
2018
2017
2016
2015
2014
2013
2012
2011
2010