EGF products
EGF Turkey File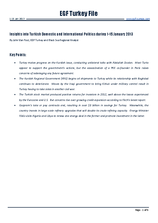 EGF Turkey File, 1 January — 15 January 2013
Insights into Turkish Domestic and International Politics
1 January — 15 January 2013
By John Van Pool, EGF Turkey and Black Sea Regional Analyst
Key Points:
Turkey makes progress on the Kurdish issue, conducting unilateral talks with Abdullah Ocalan. Most Turks appear to support the government"s actions, but the assassination of a PKK co-founder in Paris raises concerns of sabotaging any future agreement. 
The Kurdish Regional Government (KRG) begins oil shipments to Turkey while its relationship with Baghdad continues to deteriorate. Moves by the Iraqi government to bring Kirkuk under military control result in Turkey having to take sides in another civil war. 
The Turkish stock market produced positive returns for investors in 2012, well above the losses experienced by the Eurozone and U.S. But concerns rise over growing credit expansion according to Fitch"s latest report. 
Gazprom"s take or pay contracts end, resulting in over $3 billion in savings for Turkey. Meanwhile, the country invests in large scale refinery upgrades that will double its crude refining capacity. Energy Minister Yildiz visits Algeria and Libya to renew one energy deal in the former and promote investment in the latter.
Previous issues
2019
2018
2017
2016
2015
2014
2013
2012
2011
2010