EGF products
EGF Turkey File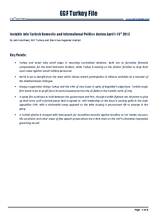 EGF Turkey File, 1 April — 15 April 2013
Insights into Turkish Domestic and International Politics
1 April — 15 April 2013
By John VanPool, EGF Turkey and Black Sea Regional Analyst
Key Points:
Turkey and Israel take small steps in resuming normalized relations. Both are to formalize financial compensation for the Mavi Marmara incident, while Turkey is leaning on the victims' families to drop their court cases against Israeli military personnel.
NATO is set to benefit from the reset which allows Israel's participation in alliance activities as a member of the Mediterranean Dialogue.
Energy cooperation brings Turkey and the KRG of Iraq closer in spite of Baghdad's objections. Turkish-Anglo firm Genel is set to profit from its early investments into the oil fields in the Kurdish north of Iraq.
A cease fire continues to hold between the government and PKK, though Kurdish fighters are reluctant to give up their arms until a formal peace deal is agreed to. AKP leadership on the issue is causing splits in the main opposition CHP, with a nationalist camp opposed to the talks causing a pronounced rift to emerge in the party.
A Turkish pianist is charged with hate speech for incendiary remarks against Muslims on his Twitter account. His conviction and other cases of free speech prosecutions are a dark stain on the AKP's otherwise impressive governing record.
Previous issues
2019
2018
2017
2016
2015
2014
2013
2012
2011
2010