EGF products
EGF Turkey File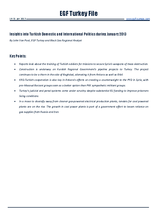 EGF Turkey File, Mid January 2013
Insights into Turkish Domestic and International Politics during January 2013
By John VanPool, EGF Turkey and Black Sea Regional Analyst

Key Points:
Reports leak about the training of Turkish soldiers for missions to secure Syria"s weapons of mass destruction.
Construction is underway on Kurdish Regional Government"s pipeline projects to Turkey. The project continues to be a thorn in the side of Baghdad, alienating it from Ankara as well as Erbil.
KRG-Turkish cooperation is also key in Ankara"s efforts at creating a counterweight to the PYD in Syria, with pro-Masoud Barzani groups seen as a better option than PKK sympathetic militant groups.
Turkey"s judicial and penal systems come under scrutiny despite substantial EU funding to improve prisoners living conditions.
In a move to diversify away from cleaner gas-powered electrical production plants, tenders for coal powered plants are on the rise. The growth in coal power plants is part of a government effort to lessen reliance on gas supplies from Russia and Iran.
Previous issues
2019
2018
2017
2016
2015
2014
2013
2012
2011
2010