EGF products
EGF Turkey File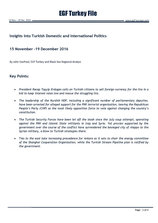 EGF Turkey File, 15 November — 19 December, 2016
Insights into Turkish Domestic and International Politics
15 November — 19 December 2016
By John VanPool, EGF Turkey and Black Sea Regional Analyst
Key Points:
President Recep Tayyip Erdogan calls on Turkish citizens to sell foreign currency for the lira in a bid to keep interest rates low and rescue the struggling lira.
The leadership of the Kurdish HDP, including a significant number of parliamentary deputies, have been arrested for alleged support for the PKK terrorist organization, leaving the Republican People"s Party (CHP) as the most likely opposition force to vote against changing the country"s constitution.
The Turkish Security Forces have been let off the leash since the July coup attempt, operating against the PKK and Islamic State militants in Iraq and Syria. Yet proxies supported by the government over the course of the conflict have surrendered the besieged city of Aleppo to the Syrian military, a blow to Turkish strategies there.
Ties to the east take increasing precedence for Ankara as it sets to chair the energy committee of the Shanghai Cooperation Organization, while the Turkish Stream Pipeline plan is ratified by the government.
Previous issues
2019
2018
2017
2016
2015
2014
2013
2012
2011
2010