EGF products
EGF Gazprom Monitor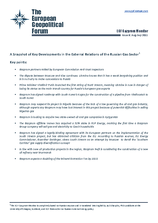 EGF Gazprom Monitor, Issue 8, August-September 2011
A Snapshot of Key Developments in the External Relations of the Russian Gas Sector
Key points:

Gazprom partners raided by European Commission Anti-trust Inspectors
The dispute between Moscow and Kiev continues. Ukraine knows that it has a weak bargaining position and is in no hurry to make concessions to Russia
Prime Minister Vladimir Putin launched the first string of Nord Stream, meaning Ukraine is now in danger of losing its status as the main transit country for Russia"s European gas exports
Gazprom has signed roadmap with South Korea's Kogas for the construction of a pipeline from Vladivostok to South Korea
Gazprom may suspend its project in Nigeria because of the lack of a law governing the oil and gas industry, although experts say Gazprom may have lost interest in this project because of potential difficulties in selling Nigerian gas
Gazprom is looking to acquire two state-owned oil and gas companies in Kyrgyzstan
The Gazprom affiliate Vemex has acquired a 51% stake in RSP Energy, marking the first time a Gazprom Group company will sell gas and electricity to Czech households
Gazprom has signed a legally-binding agreement with its European partners on the implementation of the South Stream project, but has attracted criticism from the EU. According to Russian sources, EU Energy Commissioner, Guenther Oettinger, views South Stream as an attempt by Moscow to derail the "Southern Corridor" gas supply diversification concept
In line with new oil production projects in the region, Gazprom Neft is considering the construction of a new oil refinery near Murmansk
Gazprom expects a doubling of the Mineral Extraction Tax by 2013.
Previous issues
2022
2021
2020
2019
2018
2017
2016
2015
2014
2013
2012
2011
2010