EGF products
EGF Gazprom Monitor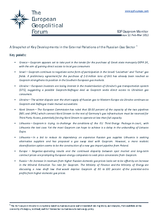 EGF Gazprom Monitor, Issue 12, February-March 2012
A Snapshot of Key Developments in the External Relations of the Russian Gas Sector

Key points:


Greece — Gazprom appears set to take part in the tender for the purchase of Greek state monopoly DEPA SA, with the aim of gaining direct access to local gas consumers
Israel — Gazprom continues to negotiate some form of participation in the Israeli "Leviathan" and "Tamar" gas fields. A preliminary agreement for the purchase of 2‐3 million tons of LNG has already been reached as Gazprom strengthens its position in the Southern European gas markets.
Ukraine — European investors are losing interest in the modernisation of Ukraine"s gas transportation system (GTS), suggesting a possible Gazprom‐Naftogaz deal as Gazprom seeks direct access to Ukrainian gas consumers.
Ukraine — The winter dispute over the short supply of Russian gas to Western Europe via Ukraine continues as Gazprom and Naftogaz trade mutual accusations.
Nord Stream — The European Commission has ruled that 33‐50 percent of the capacity of the two pipelines (NEL and OPAL) which connect Nord Stream to the rest of Germany"s gas infrastructure must be reserved for Third Party Access, potentially forcing Nord Stream to operate at less than full capacity.
Lithuania — Gazprom is trying to challenge the conditions of the EU Third Energy Package in court, with Lithuania the test case. Yet the most Gazprom can hope to achieve is a delay in the unbundling of Lietuvos Dujos.
Lithuania — In a bid to reduce its dependency on expensive Russian gas supplies Lithuania is seeking alternative suppliers and has proposed a gas swap deal with Gazprom. However, a more realistic diversification option seems to be the construction of a new gas import pipeline from Poland.
Europe — Negative operating results and the continued disparity between spot market and long‐term contract prices are prompting European energy companies to seek price concessions from Gazprom.
Russia — An increase in revenues from higher Russian domestic gas prices looks set to be offset by an increase in the Mineral Extraction Tax rate for Gazprom. The Ministry of Finance and the Ministry of Energy are discussing a new draft law that would deprive Gazprom of 80 to 100 percent of the potential extra profits from higher domestic gas prices.
Previous issues
2022
2021
2020
2019
2018
2017
2016
2015
2014
2013
2012
2011
2010