EGF products
EGF Gazprom Monitor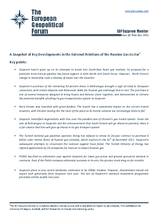 EGF Gazprom Monitor, Issue 10, November-December 2011
A Snapshot of Key Developments in the External Relations of the Russian Gas Sector
Key points:

Gazprom hasn"t given up on its attempts to break into South-East Asian gas markets. Its proposal for a potential trans-Korean pipeline has found support in both North and South Korea. However, North Korea"s change in leadership casts a shadow of doubt over the situation
Gazprom"s purchase of the remaining 50 percent share in Beltransgaz brought a sigh of relief to European consumers, with transit disputes and Belarusian debts for Russian gas seemingly laid to rest. The purchase is one of several measures designed to bring Russia and Belarus closer together, and demonstrate to Ukraine the potential benefits of selling its gas transportation system to Gazprom
Nord Stream was launched with great fanfare. The launch has a substantial impact on the current transit situation, with Ukraine looking like the loser of the piece as its transit volumes are increasingly likely to fall
Gazprom intensified negotiations with Kiev over the possible sale of Ukraine"s gas transit system. Given the sale of Beltransgaz to Gazprom and the announcement that South Stream will go ahead as planned, there is a fair chance that Kiev will give up shares in its gas transport system
The Turkish national gas pipelines operator, Botaş has refused to renew its 26-year contract to purchase 6 billion cubic metres (bcm) of Russian gas annually, which expired on the 31st of December 2011. Gazprom"s subsequent attempts to circumvent the national supplier have failed: The Turkish Ministry of Energy has refused applications by 26 companies for licences to import Russian gas
PGNiG has filed an arbitration case against Gazprom for lower gas prices and greater spot-price element in contracts. Even if the Polish company ultimately succeeds in its aim, the process could drag on for months
Gazprom plans to pay record dividends, estimated to be 200bn Roubles. However, shareholders should not expect such generosity from Gazprom next year: The size of Gazprom"s declared investment programme precludes similar profits next year.
Previous issues
2022
2021
2020
2019
2018
2017
2016
2015
2014
2013
2012
2011
2010