EGF products
EGF Gazprom Monitor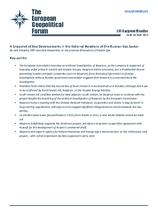 EGF Gazprom Monitor, Issue 16, September 2012
A Snapshot of Key Developments in the External Relations of the Russian Gas Sector for September 2012
By Jack Sharples, EGF Associate Researcher on the external dimensions of Russian gas

Key points:
The European Commission launches an antitrust investigation of Gazprom, as the company is suspected of imposing unfair prices in Central and Eastern Europe. Gazprom claims innocence, but a Presidential Decree preventing Russian strategic companies (such as Gazprom) from disclosing information to foreign investigators without Russian government permission suggests that Moscow is concerned about the investigation.
President Putin claims that the second line of Nord Stream is to be launched on 8 October, although this is yet to be confirmed by Nord Stream AG, Gazprom, or the Russian Energy Ministry.
South Stream AG considers tenders for steel pipes for South Stream, as Gazprom vows to continue with the project despite the launching of the antitrust investigation of Gazprom by the European Commission.
Gazprom hosts a meeting with the Chinese National Petroleum Corporation and claims "a step forward" in long-running negotiations, although sources suggest significant disagreements remain between the two parties.
As Ukraine seeks lower gas purchases (27 bcm) from Russia in 2012, a new winter dispute cannot be ruled out.
Gazprom indefinitely suspends the Shtokman project, but signs a long-term cooperation agreement with Rosneft for the development of Russia"s continental shelf.
Gazprom and Japan"s Agency for Natural Resources and Energy sign a Memorandum on the Vladivostok LNG project — with a final investment decision expected in early 2013.
Previous issues
2022
2021
2020
2019
2018
2017
2016
2015
2014
2013
2012
2011
2010