EGF products
EGF Gazprom Monitor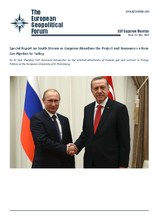 EGF Gazprom Monitor, Issue 42, November 2014
Special Report on South Stream as Gazprom Abandons the Project and Announces a New Gas Pipeline to Turkey
By Dr Jack Sharples, EGF Associate Researcher on the external dimensions of Russian gas and Lecturer in Energy Politics at the European University of St Petersburg

Special In-Depth Report on South Stream
Gazprom abandons project, proposes new pipeline to Turkey
On the 1st of December, the Russian President, Vladimir Putin, made a significant announcement: the South Stream gas pipeline project has been abandoned, and Gazprom is proposing a pipeline to Turkey as a replacement.
The in-depth report that follows provides background information on the South Stream project, and highlights the difficulties faced by the project long before the decision was taken to abandon it. The report then considers the merits of the proposed alternative — a pipeline to Turkey — before concluding with an analysis of the winners and losers from the decision to abandon South Stream.
Previous issues
2022
2021
2020
2019
2018
2017
2016
2015
2014
2013
2012
2011
2010