EGF products
EGF Gazprom Monitor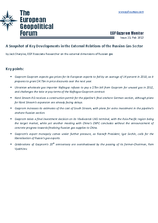 EGF Gazprom Monitor, Issue 21, February 2013
A Snapshot of Key Developments in the External Relations of the Russian Gas Sector
by Jack Sharples, EGF Associate Researcher on the external dimensions of Russian gas

Key points:
Gazprom Gazprom expects gas prices for its European exports to fall by an average of 14 percent in 2013, as it prepares to grant $4.7bn in price discounts over the next year.
Ukrainian wholesale gas importer Naftogaz refuses to pay a $7bn bill from Gazprom for unused gas in 2012, and challenges the take or pay terms of the Naftogaz-Gazprom contract.
Nord Stream AG receives a construction permit for the pipeline"s final onshore German section, although plans for Nord Stream"s expansion are already facing delays.
Gazprom increases its estimates of the cost of South Stream, with plans for extra investment in the pipeline"s onshore Russian section.
Gazprom takes a final investment decision on its Vladivostok LNG terminal, with the Asia-Pacific region being the target market, while yet another meeting with China"s CNPC concludes without the announcement of concrete progress towards finalising Russian gas supplies to China.
Gazprom"s export monopoly comes under further pressure, as Rosneft President, Igor Sechin, calls for the liberalisation of Russia"s gas exports.
Celebrations of Gazprom"s 20th anniversary are overshadowed by the passing of its former-Chairman, Rem Vyakhirev.
Previous issues
2022
2021
2020
2019
2018
2017
2016
2015
2014
2013
2012
2011
2010