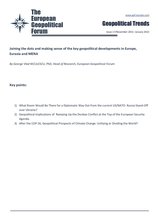 EGF Geopolitical Trends, November 2021-January 2022
Joining the dots and making sense of the key geopolitical developments in Europe, Eurasia and MENA
By George Vlad NICULESCU, Head of Research, European Geopolitical Forum
Key points:
What Room Would Be There for a Diplomatic Way Out from the current US/NATO- Russia Stand-Off over Ukraine?
Geopolitical Implications of Ramping Up the Donbas Conflict at the Top of the European Security Agenda.
After the COP 26, Geopolitical Prospects of Climate Change: Unifying or Dividing the World?
Previous issues
2023
2022
2021
2020
2016
2015