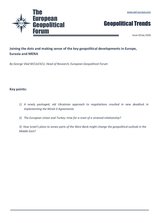 EGF Geopolitical Trends, July 2020
Joining the dots and making sense of the key geopolitical developments in Europe, Eurasia and MENA
By George Vlad NICULESCU, Head of Research, European Geopolitical Forum
Key points:
1. A newly packaged, old Ukrainian approach to negotiations resulted in new deadlock in implementing the Minsk II Agreements
2. The European Union and Turkey: time for a reset of a strained relationship?
3. How Israel"s plans to annex parts of the West Bank might change the geopolitical outlook in the Middle East?
Previous issues
2023
2022
2021
2020
2016
2015