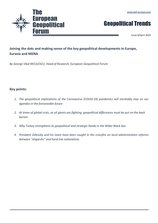 EGF Geopolitical Trends, April 2020
Joining the dots and making sense of the key Geopolitical developments in Europe, Eurasia and MENA
By George Vlad NICULESCU, Head of Research, European Geopolitical Forum
Key points:
1. The geopolitical implications of the Coronavirus (COVID-19) pandemics will inevitably stay on our agendas in the foreseeable future
2. At times of global crisis, as oil giants are fighting, geopolitical differences must be put on the back burner.
3. Why Turkey strengthens its geopolitical and strategic hands in the Wider Black Sea
4. President Zelensky and his team have been caught in the crossfire on local administration reforms between "oligarchs" and hard-line nationalists.
Previous issues
2023
2022
2021
2020
2016
2015